I had the privilege of teaching CALL to ESL teachers from around the world during the past two weeks. My main role was to show them some tech tools that would be useful for the projects that they had to complete by the end of the program. One of the challenges in selecting the tools was that not all of the teachers have Internet access in their classrooms. So, I attempted to provide at least one online and one offline option for each project. In the process, I not only introduced the tools and helped the teachers use them, but I also created quite a few how-to guides as PDFs for the tools. The shelf-life of these how-to guides is limited, given how quickly web tools change, so I wanted to get these out where other people can benefit from them before they expire. Below, I've included the how-to guides as well as links to other useful information. All information below  is valid as of the date of posting!
[Update, August 5, 2013: I'm using this list with a group of teachers from China today, and the links highlighted in blue below are blocked in Beijing, according to Great Firewall of China. This information may not apply to other locations in China!]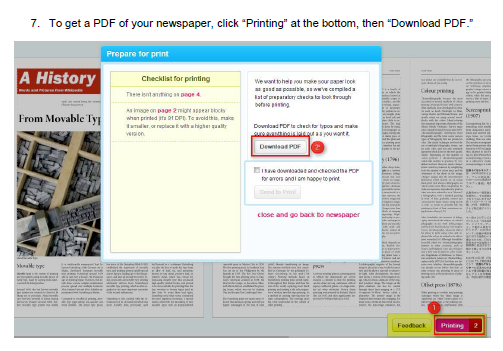 List of Web 2.0 tools for CALL – the Diigo bookmark site that Susan Pennestri and I curate
Marcelo Andrade's English Phonetics wiki – the website of one of the participants in the program!
Blogging (online only)
WordPress.com is good for making websites that include a blog. However, it is not ideal if you want to embed various media.
Blogger – PDF how-to – PDF of how to embed in Blogger
Blogger is a blog only, not a website. However, it is much easier to use than WordPress if you want to embed various media.
Video blogging/sharing/editing
YouTube (online) – PDF of how-to use the YouTube video editor
Movie Maker (Windows) – PDF how-to
iSpring Free (PowerPoint to Flash/HTML converter for Windows)
Zamzar file conversion (online)
Download YouTube/other videos (online only; all require Java applet)
Voobys – follow the instructions for downloading
Time capsules (online)
Prezi – How to embed a Prezi into a WordPress.com blog
Newspapers
Newspaper Club (online) – PDF how-to
newspapertemplate.net has Word templates for making newspapers.
You can also use the newsletter templates included in Microsoft Word and Publisher.
Facebook profiles/walls/pages
Create a Facebook page (NOT a fake one) – PDF how-to
The Wall Machine (online tool)
Another Google Docs template (online)
Text annotations (online)
Gloss Maker (HTML skills required)
Podcasts
Book reviews (online)
PDF how-to for Audio Dropboxes
Other
Wix – create a website – PDF how-to
Lingt Classroom – create online listening and speaking exercises – PDF how-to
Dropbox – secure online file storage that you can share with students
Google Drive Forms – Create surveys and quizzes – PDF how-to
PDF of how to use Flubaroo to automatically grade quizzes in Google Drive Forms
Gnowledge – Create quizzes and tests – How-to videos – PDF how-to
Wikispaces – Create a wiki – PDF how-to