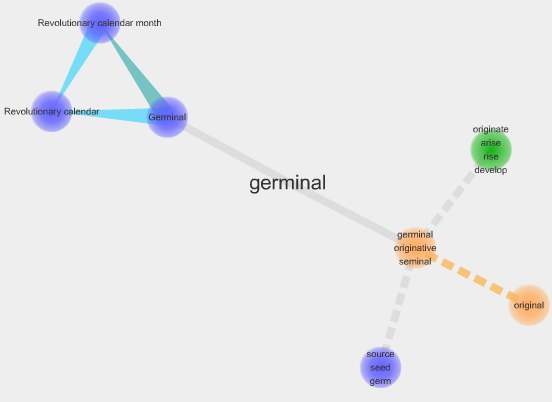 Happy new year! Something I want to do this year is post here more regularly, especially to share the interesting educational tools I find. So, here's the first one, although I may be a bit late to the party on it:
Visuwords™ is an online (English-only) dictionary that graphically displays the relationships between words. The screenshot is what I got when I chose the "Random" option. (Just before this one, I got "boob." It also makes for a nice visual, but you check it out yourself.)
The screenshot doesn't really do the site justice, however, because when you hover over any of the colored circles, you get synonyms and a definition. The colors and patterns connecting the circles, as well as the colors of the circles themselves, also have meaning. You'll just have to go and discover that meaning for yourself.
Thanks to Angela Maiers for mentioning this tool in her blog.