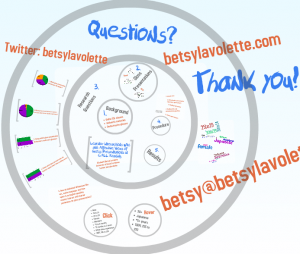 PowerPoint slides are boring, as we all know. However, at conferences, they are difficult to escape because of the lack of alternatives. This is the perfect opening for Prezi, a new kind of presentation tool. You can zoom in and out of different text and graphics on an unstructured plane. You can add arrows and frames to group your text and graphics. You can be as creative as you can be – within these new limitations that are completely different than those of PowerPoint.
Since first learning about Prezi from Larry Ferlazzo's blog, I've been thinking about how I was going to use it. And I will finally have my chance at the CALICO conference next week. I don't want to share my full presentation just yet because it's not finalized, but I will definitely post a link after the conference. Until then, enjoy the "overview" above.
I'm hoping to see some other forms of innovation at the conference, as well – after all, the first "C" in CALICO stands for "computer." So there should be plenty of tech-savvy people. I can't wait to meet them!