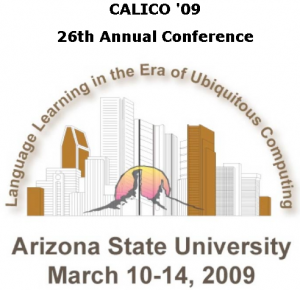 The past three days (Thursday, Friday, and Saturday), I was attending the Computer Assisted Language Consortium (CALICO) conference in Tempe, Arizona. It's the first time that I've attended CALICO, although I've been interested in it for a while. It's also the largest conference that I've ever presented at or attended – there were about 350 attendees. And it was my best ever conference experience!
Part of the reason I had such a positive experience is that this conference was almost entirely focused on themes that I care about. When I go to more general education or language conferences, I am always seeking out the presentations that involve technology or corpus linguistics or ESL. Sometimes I hit the jackpot and find two of these themes together. But usually, I end up attending presentations that I am less interested in. Compromises must be made. At CALICO, however, I had a very difficult time choosing the sessions because I often wanted to see many sessions during a given time period!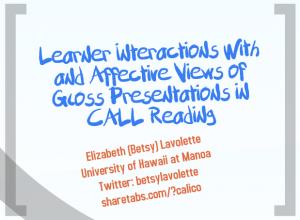 Luckily for me, most of the sessions were recorded and will be available on the web. If I understood correctly, TWO separate recordings were made of each presentation: an audio recording and an audio/screen video recording. I don't know where the pure audio recordings will be posted, but the audio/video recordings are available at ClearSky Systems. The code for my presentation is XHJZVTIALC, and mine is the first one on the list that begins downloading.  You have to download a player (Adobe-AIR based) from the website before you can download and view the session. And it's only available for Mac and Windows (no Linux! bah!). I downloaded the player using MS Vista without a problem, but kept getting errors during the download of the actual files. Despite these errors, the presentation downloaded and plays fine, although it continues to spit out errors. The audio is completely terrible, but that is probably due to how it was recorded – not a fault of ClearSky. So rather than go to the trouble of downloading all of that other stuff, you can just walk yourself through my presentation yourself at prezi.com. It's less interesting without the narration, but I'll work on posting a narrated version soon.
Beyond the themes of the sessions themselves, it was the people involved that made this conference so good. I won't get into how much work it must have been for the organizers because I didn't really see behind the scenes. What I did see was how friendly and approachable everyone was. I made a lot of good connections, and I look forward to collaborating with some of the people that I met. And at the next conference I attend, I'll be looking for their friendly faces.