Last week, I wanted to create a Venn diagram to visually represent data in a study. One of my colleagues (who shall remain nameless unless he chooses to reveal himself) recommended that I try out GraphJam. So, I visited the site, and I found that it was intuitive and even fun to make a simple, colorful Venn diagram that represented the teaching experience of the participants in the study. The graph I made is above.
It was only after I finished making it and tried to save my beautiful creation that I encountered this dialog: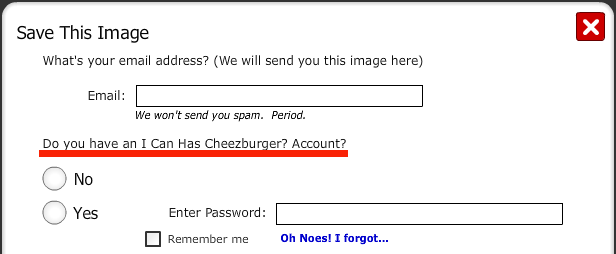 Oh Noes! In case you missed it, as I did, I've helpfully underlined in red the relevant information: I was making a serious Venn diagram using I can has cheezburger?!
Now, believe me, I like LOL cats as much as the next person. Okay, I LOVE LOL cats. And yes, I admit, I subscribe to the feed so that I don't miss a single LOL. (Don't judge me!)  But what should I make of this? The easiest to use, most functional Web 2.0 tool that I could find for making a Venn diagram is only intended for making LOLs!
If this tool had a few more options – such as the ability to save your diagram without making it public, or an option to remove the LOL-meter that lets people vote on it – then, I would be very happy to use it for my "serious" tasks, with or without cheezburgers.
Kthxbai!