[This is the sixth in a series of posts about Dick and Carey's The Systematic Design of Instruction. Want to read an overview and my thoughts on Chapter 1, Chapter 2, Chapter 3, and Chapter 4 before proceeding?]
This chapter is about characterizing learners, the context in which they will be performing, and the context in which they will be learning.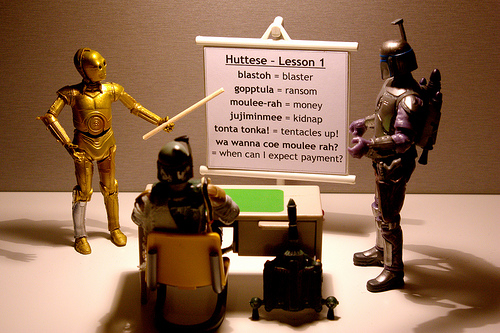 Bounty Hunting School – Language Course by Stéfan
Learners
This chapter tells us that we need to know certain characteristics of the targeted learners. But what is the purpose of gathering that information? How will it affect the instruction that is later developed? If the learners do not have skills that you initially considered entry behaviors, you can directly use that information to design instruction that includes more basic skills. However, why do we need to know about gender, for example? Will knowing that learners have positive attitudes toward the content change the way that the instruction is designed? More information on this topic is apparently found in later chapters, according to p. 90:
In this chapter, we identify a set of variables that research has indicated affects learning. If you describe your learners in terms of these variables, you can modify your instructional strategy to enhance learning.
So, information on specific variables will directly impact the learning design. We just don't yet know how they will impact it. Here are those variables, from p. 91:
Entry behaviors
Prior knowledge of the topic area
Attitudes toward content and potential delivery systems
Academic motivation
Educational and ability levels
General learning preferences
Attitudes toward the organization giving the instruction
Group characteristics
I wonder about #7, since this could be a loaded question. How can you get an honest answer? Also, I am not sure that this is relevant to, for example, college students who are studying a foreign language at a particular institution. Should the design of the instruction be changed if the students hate their university? Or if they love it?
Performance context
The listed characteristics of the performance environment (pp. 93-94) are
Managerial or supervisor support
Physical aspects of the site
Social aspects of the site
Relevance of skills to workplace
But what is the performance context for foreign language learners? Various work, school, and social settings in the foreign-language culture? A home stay? A workplace in the United States? Only the classroom? There are simply too many possibilities. My opinion is that this should be moved to the learner characteristics in this case. We cannot know how the learners plan to use their language skills unless we ask them. But will this affect the instruction that is created? Only, I think, if it affects the instructional goals.
Learning context
The listed characteristics of the learning environment (p. 95) are
Adaptability of site to simulate workplace
Adaptability for delivery approaches
Learning-site constraints affecting design and delivery
In universities, the instructor or instructional designer may not know what classroom space will be available or assigned, which complicates any investigation of the learning context.
The third characteristic is very important to consider if the instruction includes any technology, even that as basic as chalkboards. The classroom itself may limit what type of instruction is possible.
Evaluation and revision of the instructional analysis
Tacked onto the end of this chapter is a recommendation to have your instructional analysis evaluated by learners before proceeding to the next step.  From p. 97,
The reason we are discussing the tryout in this chapter, rather than in the last one, is that the tryout can occur at the same time the designer is conducting the learner and context analyses. Those analyses bring the designer into contact with potential learners, or recent learners, who can review the instructional analysis with the designer.
Ah, great idea! Rather than relying on your own intuitions about steps and skills and entry behaviors, you can get an informant to check out your ideas and get feedback before proceeding.
Next up: Chapter 6, Writing Performance Objectives.